OBEY / LA RÉTROSPECTIVE.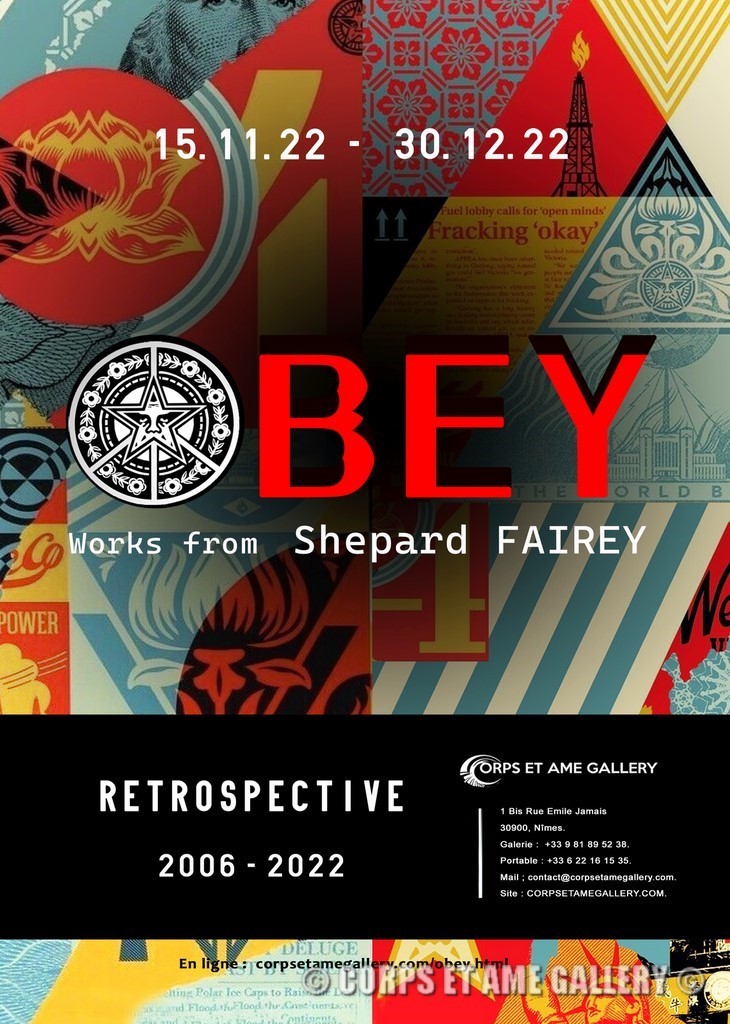 > CATALOGUE EN LIGNE. > ONLINE CATALOG.
Présent dans notre galerie depuis 10 ans maintenant, nous sommes fiers de vous présenter un ensemble d'œuvres réalisées par un artiste devenu incontournable dans le monde du Street Art : Shepard FAIREY, Alias OBEY GIANT.
Connu mondialement depuis son affiche pour OBAMA en 2008, son ART "retro-graphique" ne laisse personne indifférent.
Que ce soit sur les murs des villes (plus de 300 fresques monumentales à son actif à ce jour) ou sur ceux des collectionneurs, ses œuvres nous fascinent et nous marquent profondément de part les thématiques abordées très actuelles, mais aussi par leur puissance visuelle.
Qu'il s'agisse d'environnement, de cause politique, sociale ou sociétale, chacun se retrouve dans ses combats pour la vérité et la justice. A ce titre, CORPS ET AME GALLERY vous présente pour cette fin d'année 2022 une grande exposition rétrospective qui rassemble un large échantillon de son travail (Voir le Catalogue complet des oeuvres). Nous avons sélectionné un large panel d'œuvres d'art, des sérigraphies, des livres, objets d'art et stickers ayant marqué la carrière de l'artiste.
En complément de l'exposition qui débute le 15 novembre 2022, nous vous proposons une exposition virtuelle immersive à voir ici. La plupart des œuvres qui sont exposées sont aussi visibles ici. Pour voir les livres, les skateboards, les spraycans et les stickers il faudra vous rendre à la galerie.

Avec Shepard FAIREY, l'art se diffuse à tous et massivement, comme une sorte de propagande universelle.
Un artiste à voir ou revoir à Nîmes au 1 bis de la rue Emile Jamais.
*
Present in our gallery for 10 years now, we are proud to present a set of works made by an artist who has become essential in the world of Street Art: Shepard FAIREY, Alias OBEY GIANT.
Known worldwide since his poster for OBAMA in 2008, his "retro-graphic" ART leaves no one indifferent.
Whether on the walls of cities (more than 300 monumental walls to his credit to date) or on those of collectors, his works fascinate us and mark us by the very current themes evoked, but also by their visual power.
Whether it's the environment, a political, social or societal cause, everyone finds themselves in their fights for truth and justice.
As such, CORPS ET AME GALLERY presents to you for the end of 2022 a major retrospective exhibition which brings together a large sample of his work (See the Catalog online). We have selected a large panel of works of art, serigraphs, books, art objects and stickers that have marked the artist's career.
In addition to the exhibition which begins on November 15, 2022, we will present an immersive virtual exhibition to view here.
Most of the works that will be exhibited can be seen here.
With SHEPARD FAIREY, art spreads to everyone and massively, like a kind of universal propaganda.
> CATALOGUE EN LIGNE. > ONLINE CATALOG.
Shepard Fairey dit Obey Giant est né en 1970 à Charleston auxEtats-Unis. Il plonge dans l'univers du graphisme dès l'âge de 14 ans en dessinant des images qui seront floquées, sur des T-shirt et des skateboards.
Influencé par l'œuvre d'Andy Warhol ou encore l'artiste russe Alexandre Rodtchenko, il se dirige naturellement vers des études artistiques.

Ainsi, à la fin des années 1980, Obey et une bande d'amis de la Rhode Island School of Design créent à partir de la figure du catcheur André the Giant une série de stickers et d'affiches qu'ils collent clandestinement par milliers sur les murs des villes américaines.
C'est une des premières et des plus importantes campagnes "virales" de Street Art qui montre la capacité de force de frappe de cette nouvelle forme d'expression clandestine. Son travail est reconnu mondialement lors de la campagne présidentielle américaine de 2008 avec la création du poster HOPE de Barack Obama qui deviendra une image icône de la
campagne. Le Président le remerciera personnellement de l'influence que son affiche a pu avoir lors des élections présidentielles.
*

Shepard Fairey aka Obey Giant was born in 1970 in Charleston,
UNITED STATES. He falls into the world of graphic design from the age of 14 indrawing images that will be flocked on T-shirts and skateboards.
Influenced by the work of Andy Warhol and the Russian artist Alexander Rodchenko, he moves naturally towards artistic studies.
Thus, at the end of the 1980s, Obey and a bunch of friends from Rhode Island School of Design create from the figure of the wrestler André the Giant a series of stickers and posters that they stick secretly on thousands walls in American cities.

It is one of the first and most important "viral" campaigns of
Street Art that shows strength capacity hitting this news
clandestine form of expression. His work is recognized worldwide
during the presidential American campaign of 2008 with the creation of the HOPE poster by Barack Obama which will become an icon image of the country. The President will thank him personally for the influence that his poster may have had during the elections.